Film Composer - Animator

Featured Videos
(Click image to play)
---


News

---
Jan/2015

"Global Warming"

the new animated short film by Carlos Vivas, has finally been completed after a year in the making.

"Cafiño," the little coffee bean, (who became famous for Viva's short

"Gas Station"

) will now fight against earth's chaotic weather. He will embark on an adventurous search for a sunny spot to get his much desired tan.

Directed, animated and produced by Carlos Vivas. The film features the voices of Steve Giraldo as Cafiño and

Jessica Sonneborn

as the anchor weather girl.

This 3D animation is currently being submitted to several film festival worldwide.


Trailer Click Here
---
Sept/2014

"Best Score Nomination"

Composer Carlos Vivas gets

2 nominations

in the Chicago Horror film festival for his work on "Alice D" The nominations include "Best Music Score" and "Best Sound Design" The film also got nominated for "Best Picture" - Best Actor" Juan Riedigner and "Best Writer" Jessica Sonneborn.

Check nominees here"Alice D" Official Web Site
---
"Never Open The Door" score completed!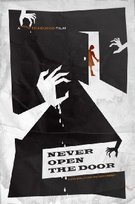 Nov/2014"Never Open The Door"
The Maltauro's Entertainment horror film score is finally completed!! Featuring Music and Sound Design by composer Carlos Vivas on his 4th collaboration with director Vito Trabucco.
This black and white horror film is an homage to Director John Brahm (Twilight Zone and Hitchcock Presents) who is the grandfather of Christopher Maltauro, the producer of the film.
Starring Jessica Sonneborn, Kristina Page, Deborah Venegas, Mathew Aidan, George Troester and Mike Wood.
The film tells the story of 3 happy couples enjoying the holidays in a cozy secluded cabin in the woods when they are suddenly interrupted by an unprecedented event that will forever change their lives.
Watch teaser
---
---
"Alice D" ready to go!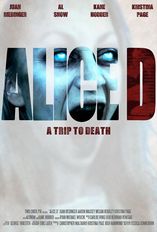 Feb/2014
The music score for
"Alice D"
has already been completed by composer Carlos Vivas. This is a supernatural horror feature film produced by Christopher Maltauro and Kristina Hammond directed by Jessica Sonneborn. "I am so blown away by the strikingly beautiful and terrifying music that Carlos created for us" stated the talented director. For fangoria article and
Trailer click here.
Storyline:
In the early 1900's the Davenport House was a famous and successful brothel, until a young prostitute named Alice killed herself there. After her death, the brothel became haunted by Alice's ghost, and was eventually abandoned.
One hundred years later, the old structure is renovated into a beautiful mansion. It is still rumored to inhabit the ghost of Alice. Despite this, the new owner; the rich and arrogant heir to the Davenport fortune, decides to throw a wild party for his first night in the house.
"Alice D" Official Web Site
Watch clip here!
---
---
"Some Things Are Worse Than Being Gay" keeps doing well!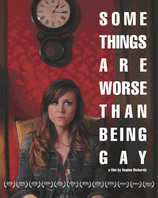 ---
---
Deadline Knows, a tribute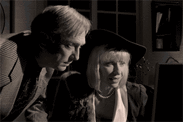 March 2013
A 3 minute short film honoring the "infamous"
Deadline.com
website and editor in chief,
Nikki Finke.
Deadline Knows
is a piece in the very old style of
Film Noir,
it's color, sound and music score composed by Carlos Vivas punctuates the 40's and 50's classic scoring style. The little piece was featured on deadline.com.
Directed by Carrie Certa starring Patti Negri and Welsen Jones.
Watch short
---
---
Jairo Varela, an animated tribute.

| | |
| --- | --- |
| | Here is an animated tribute I made in honor of dear friend who has recently passed. Jairo Varela (1949-2012) was the founder and director of El Grupo Niche, one of the most prominent salsa music bands, which I had the opportunity to be a part of. Jairo will always be remembered as one of the greatest composers and lyricist of salsa music....Thank you Maestro!Click to watch |
---
"Undisconnected" in film festivals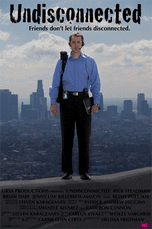 Morris Gammons is a good man. A good hard working man who loves his wife and new baby. All he has to do is turn in 'the numbers' to his boss. But in today's inescapable technology age, he can't find a moments peace, which drives him over the edge.
"Undisconnected
" is Carlos Vivas
'
first collaboration with director-producer
Carrie Certa
. The dark comedy has been screened in several film festivals including the
Bare Bones Film Festival
(Nominated for best comedy)
Action On Film Festival
(Nominated for best director)
Macon Film Festival
(Official selection)
Directed by Carrie Certa, Staring Rick Steadman, Brian Dare, Jenny Um and Killebrew Mason
Click for
official website
---